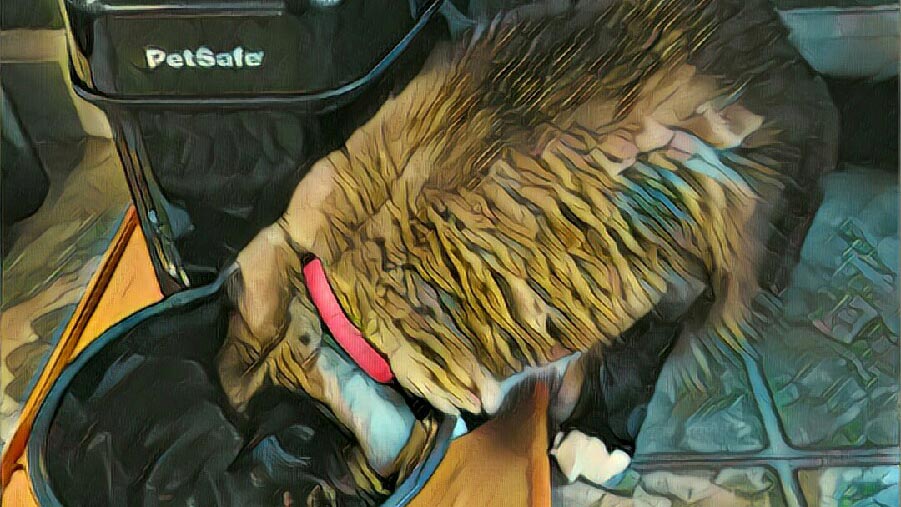 People are getting busier and with tight schedules comes the fact that sometimes our pets may not be fed on time. The best automatic cat feeder will help keep your "creatures of habit" from a missed meal. This is just one of the important reasons why manufacturers have now designed a number of automatic cat feeders that will keep your feline friend well fed AND right on time.
In this article we are not only going to uncover the best automatic cat feeders on the market today, but we are also going to give you a complete guide of everything automatic cat feeder-related.
What is An Automatic Cat Feeder?
An automatic cat feeder is simply a unit that can either be time-released with a predetermined amount of kibble or one that will fall from the hopper into the bowl as the cat eats from it. They come in many shapes and styles and the higher-end models even provide pet-safe, pop-up lids or a slider-system for a timely, ease-of-access to the kibble.
Automatic feeders are not the only automatic aid when it comes to looking after your cat. If you want to fully automate the job of feeding it and cleaning up after it, check out our reviews for automatic cat litter boxes and automatic water fountains.
Why Do I Need In an Automatic Cat Feeder?
Automatic cat feeders are used for many reasons. These include;
People with busy lives that are not able to maintain their cat's regular feeding schedule.

People who are away from home for a couple of days at a time.

Cats that need to be slowed down when they dine.

Finicky eaters that like their food fresh.

Pet parents that don't want to get up for Kitty's late-night/early morning food cravings.
Along with these is one of the most common and, perhaps, the most important reason why pet parents choose an automatic cat feeder; the feline is overweight. In fact, according to the Association for Pet Obesity Prevention, 58% of cats in the US are too fat or even obese.
This number is staggering.
But did you know obesity in cats is also the leading cause of many health-related issues?
These include;
Diabetes

Cancer

Lowered life expectancy

Kidney disease

High blood pressure

Osteoarthritis
Automatic cat feeders can lower your cat's chance of becoming overweight (and thus these weight-related issues) by doling out the proper amount of food. This decreases the ability for your fat feline to overeat.
Things to Consider Before You Purchase an Automatic Cat Feeder
There are many different types and styles of automatic cat feeders. So how do you choose which one is right for you and your cat? Ask yourself these questions;
Does your cat need a portion-control feeder or one that feeds on demand?

Is your home more prone to getting insects? If so you will want one that is insect-proof.

Are you feeding your pet wet or dry food? Some automatic cat feeders provide an icepack to keep wet food fresh.

How much food capacity do you need? Some units are made smaller, while others can hold up to 12 meals.

Does the unit run on batteries or electrical power and will it reset if the power should fail?

How many pets are you feeding in your home?

Will your clever cat be able to figure out the unit to get at the food or "muscle" it open?
Ultimately, the decision is up to you on what type of automatic cat feeder is right for your pet. However, to help you with your purchase, we've found the top seven best automatic cat feeders on the market today. Plus, we've rated them out of 100 for; convenience, durability, price and overall customer satisfaction.
The Best Automatic Cat Feeders
7. Home Intuition Portion Control 6-Meal Best Automatic Pet Feeder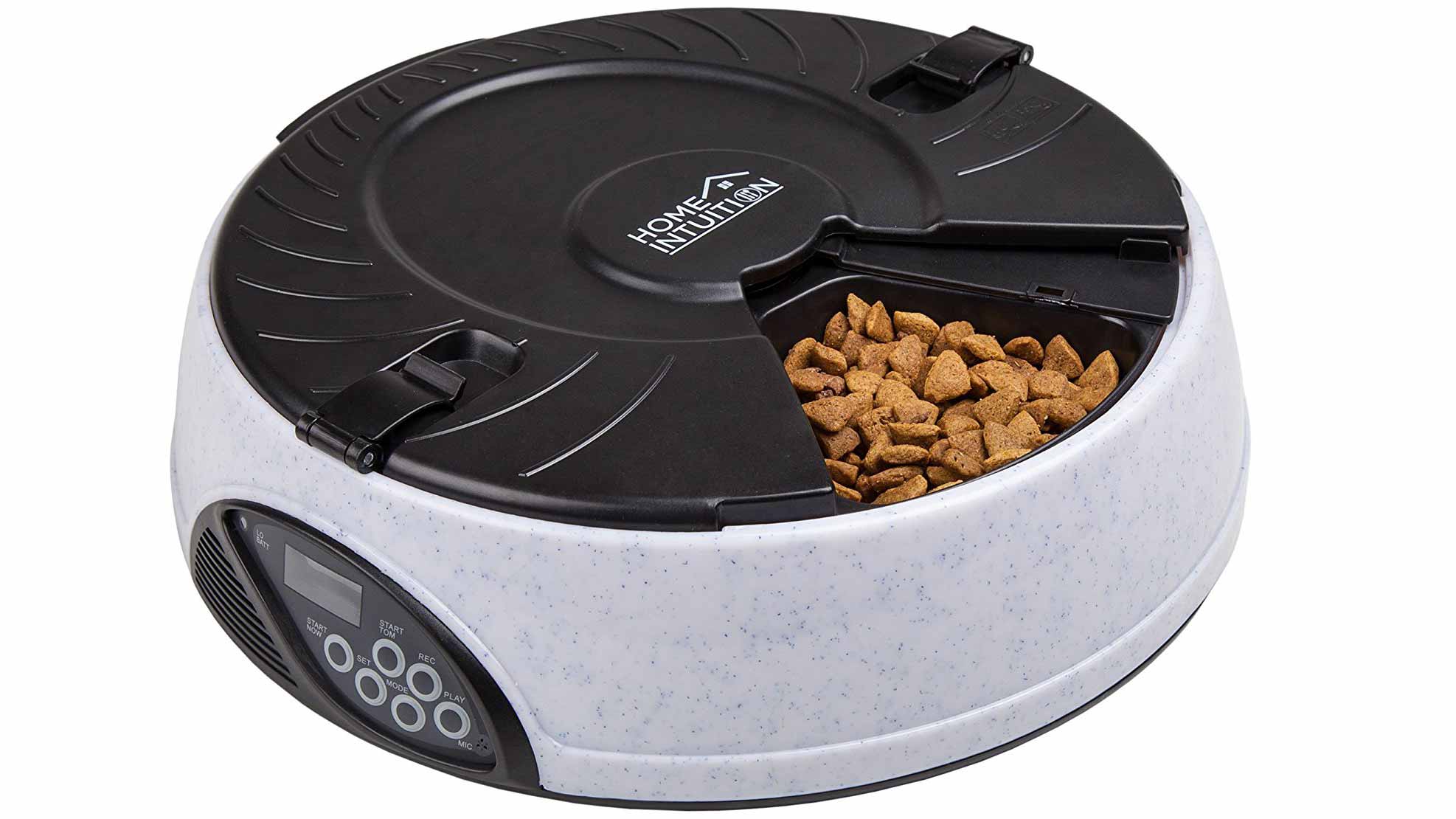 This automatic cat feeder can be programmed to feed your pet up to 6 times-a-day or fill once and program it to feed once-a-day for six consecutive days (any combination works). The feeding times and food amounts are easily adjusted and it even has an option to leave a 6 second personal message to help your cat know when it's time to eat.
In addition, it runs on 4 C batteries (not included) so you never have to worry about your kitty missing a meal because of a power failure. Each tray holds up to 1 cup of food and locks into place to keep those curious cats from breaking into it. Cleaning the trays, lid and slide covers can be done with regular dish soap and the feeder base can be wiped down with a damp cloth. The total unit measures in at 13 inches in diameter and 4 inches in height.
6. PetSafe Automatic Cat Feeder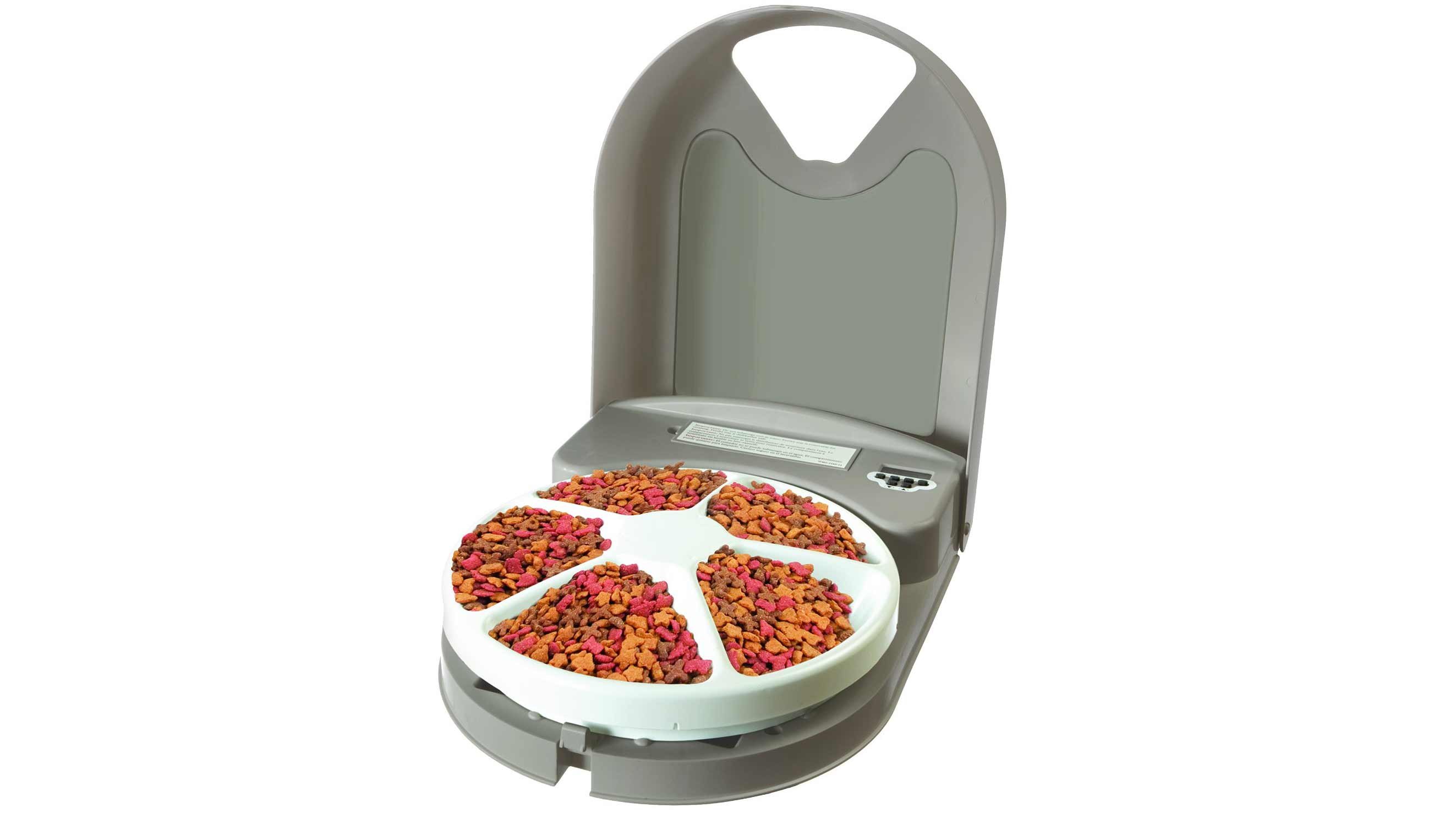 With 5-one cup portion trays and an easy-to-program digital timer, this automatic cat feeder is winning rave reviews with busy pet parents everywhere. Once the feeder is filled and programmed it will rotate to a new tray on the preset time(s) each day.
The BPA-free plastic construction is not only durable, but it's safe if your cat tries to nibble on it. In addition, it's dishwasher-safe food trays are convenient for busy folks and its 4 D-cell batteries (not included) will last up to 12 months. The unit itself weighs 3.3 pounds and measures in at 15 x 5 x 18 inches.
5. PYRUS Large Automatic Cat Feeder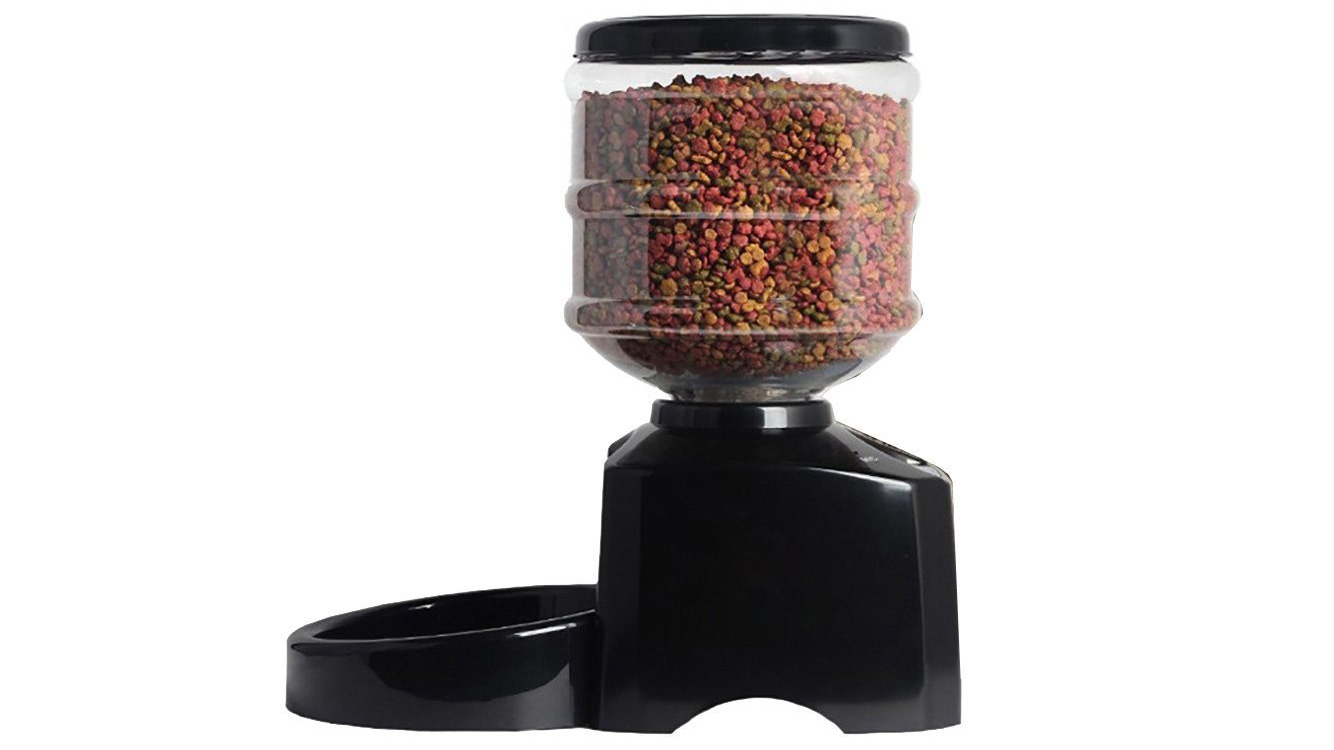 It may not be the best automatic cat feeder, but it will let you feel like you never left your home when you have the PYRUS Large Automatic Cat Feeder. The food hopper holds a whopping 7 pounds of dry kibble and is made with ABS plastic which is durable and has good heat-resistance. The opaque nature of the hopper makes checking the food level a cinch and the pet-proof lock secures the lid on even tighter than before.
Great for those clever kitties!
In addition, this is one of the best automatic cat feeders because it allows you to record a 10 second-long message to get your finicky cat to the unit for a delicious meal or treat. Plus, the LCD screen with complete functions is easy-to-program. Although, the unit is a bit bulkier measuring in at 15.3 x 8.3 x 15.1 inches, these other features make this automatic cat feeder one of the top units.
4. Crown Majestic Diamond Series V3 Automatic Cat Feeder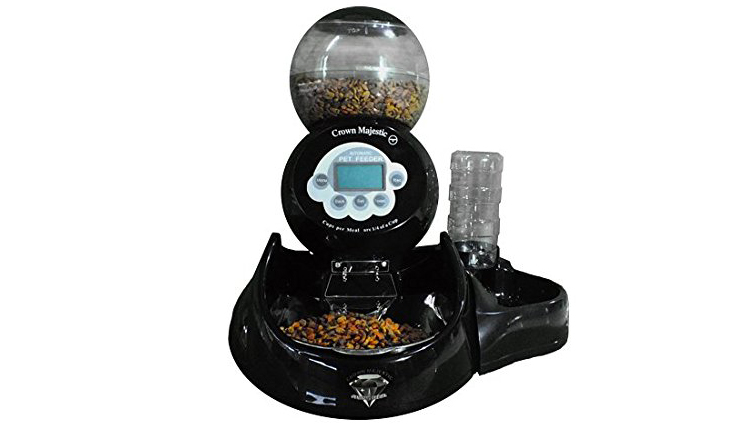 This automatic cat feeder earned its way to one of the best feeders because of its innovative design that allows both food and water to be dispensed. The food dispenser will drop as little as ¼ cup up to 2 cups for each meal and can be programmed for up to 4 servings each day.
The water bottle will dispense fresh water each time your cat drinks from it; however, the unit can be used without this feature. It plays a 12 second pre-recorded message when the food is dispensed and has a low-battery indicator on the LCD screen. It runs on both 4 AA batteries (not included) and an AC adaptor that is included. The stylish design is also very stable with an anti-tipping feature to keep it all in place even with feisty pets.
3. Pet Feedster USA PF-10 Automated Pet Feeder For Cats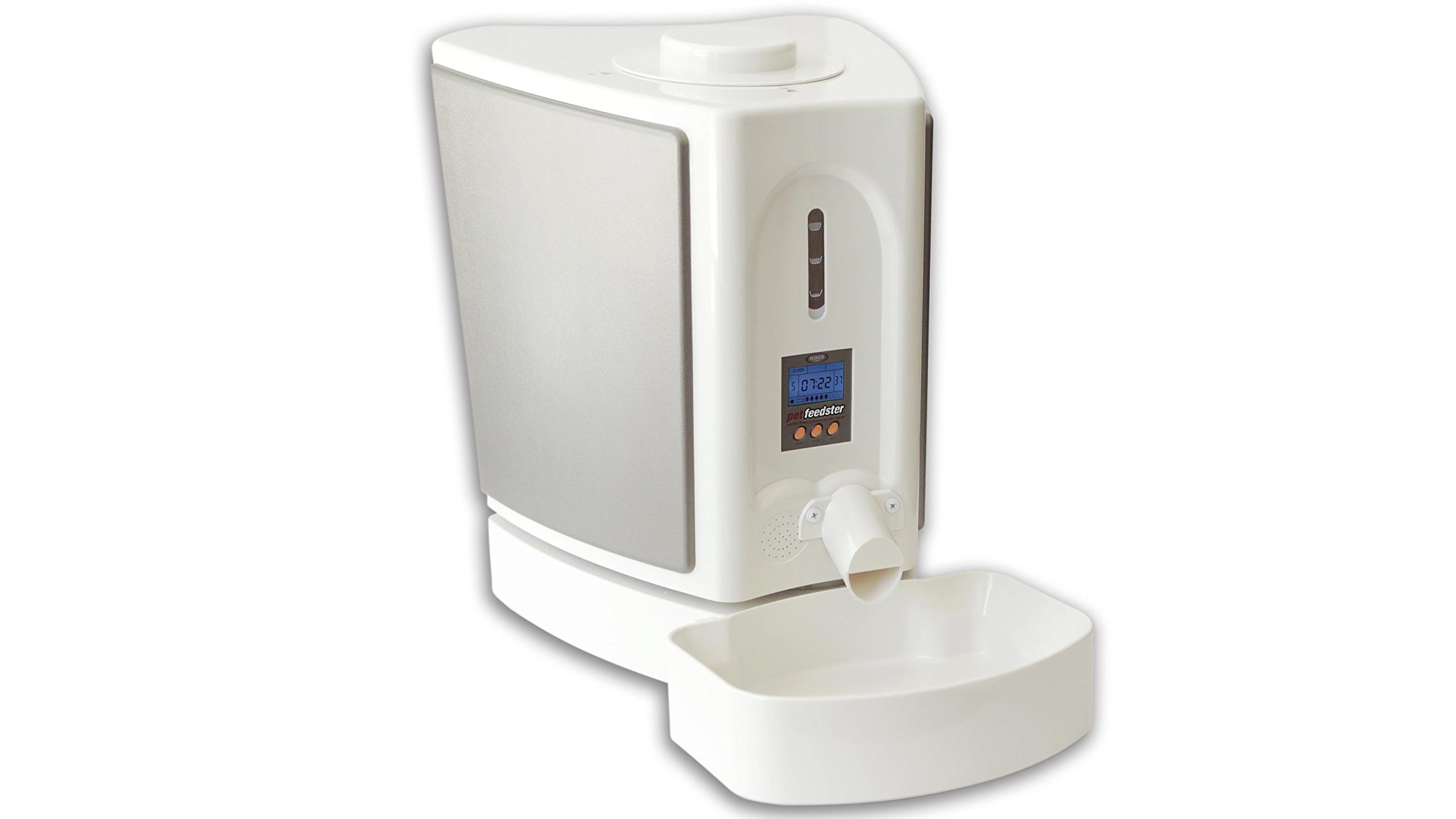 Another of the best automatic cat feeders is the Pet Feedster can hold up to 10 pounds of kibble and be programmed for up to 8 meals each-day, dispensing from as little as 1 teaspoon up to 6 cups. It's jam-proof and even ant-proof as it has a water tray at the bottom of the Feedster to stop insects before they invade the kibble.
You never have to worry about a power failure as this unit runs on 6 D batteries (not included) but also has a back-up AC adaptor that is included. The easy-to-set display has a pause-mode that can be used without reprogramming the whole system over again and a timer display that shows when the meal was served. This automatic cat feeder measures in at 13.8 x 17 x 15 inches and weighs 9.5 pounds.
 2. TD Design Automatic Wet/Dry Cat Feeder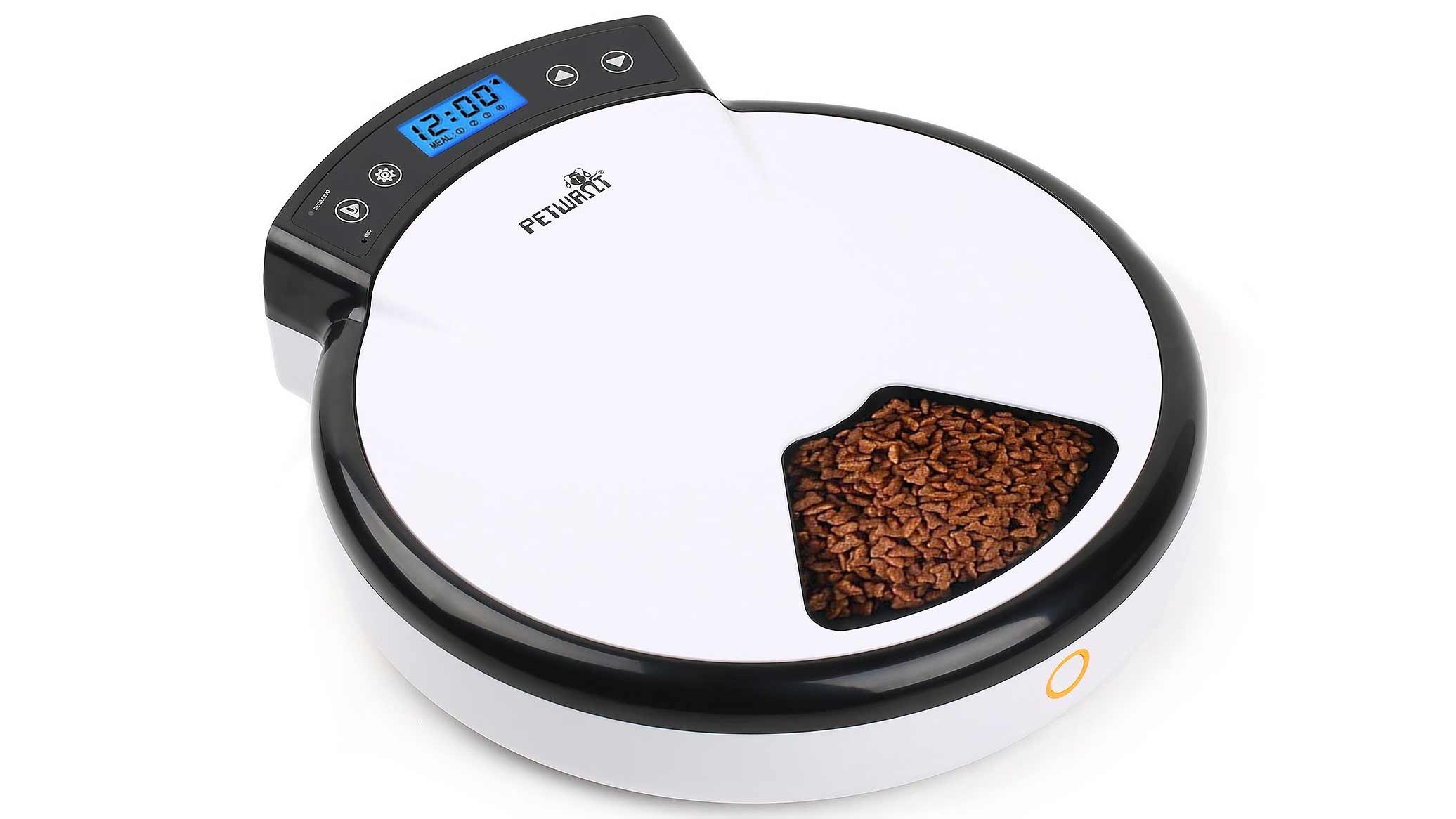 This automatic cat feeder is a gift you can give yourself and your feline buddy. It is packed full of features that include 5 separate food trays, an easy-to-set 24-hour capability, as well as stored memory and a dual power system using both an AC adaptor and back-up C batteries (not included).
In addition, a 10 second personal message can be recorded for your cat that will play three times before the tray opens to the meal. This unit is also perfect for scheduled treats, medications and wet foods. The TD unit measures in at 12 x 13.2 x 3.2 inches and has a secure latch to keep the food safely inside.
1. PetSafe Healthy Pet Simply Feed Automatic Cat Feeder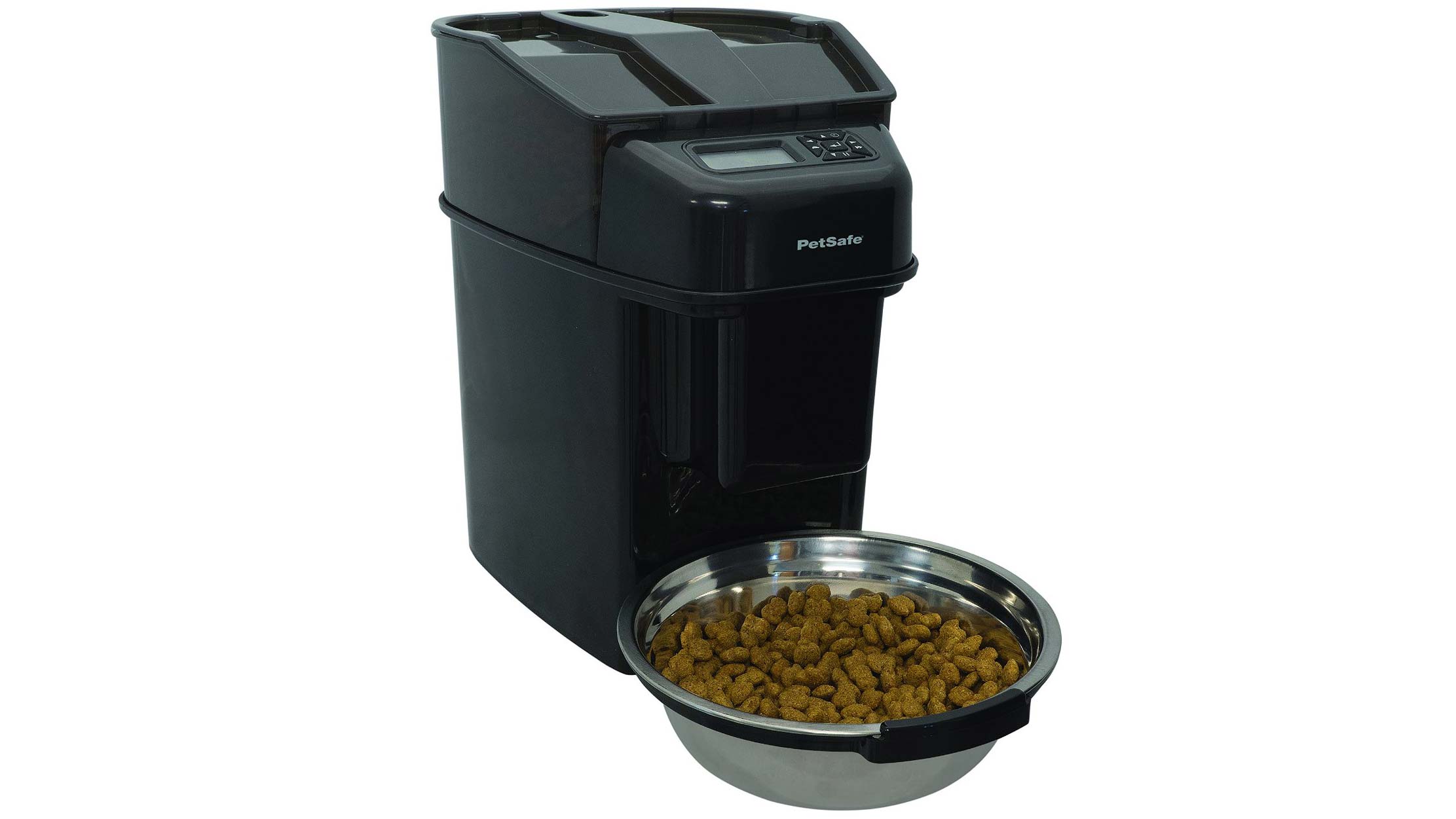 Perfect for meal managing, this is the best automatic cat feeder on our list. The unit allows you to program up to 12 meals-a-day and also for portion control from ⅛ cup up to 4 cups. The unit can also be set to release the food over a 15 minute-period for those cats that tend to gobble up their meals.
It uses a patented anti-jam conveyor belt that can dispense dry or semi-dry meals and BPA-free plastic and stainless steel bowls. This best automatic cat feeder can run on 4 D batteries or an AC adaptor (both not included). Although, it may look bulky, the dispenser measures in at 9 x 19 x 12.5 inches.
The Best Automatic Cat Feeders Are the Wave of the Future
It's nice that technology has brought us pet parents these best automatic cat feeders that are the wave of the future. Whether you are busy and can't meet your cat's feeding demands, or your cat is overweight, these best automatic cat feeders are sure to make both you and your feline friend extremely happy.
Did you like this rundown? Be sure to check out our other articles with essential information that will help you learn everything about the best products for your cats, including the best cat bed and the best clumping cat litter we could find.