Made for the kid in all of us, the Grey Shark Bed comes in two sizes; small & medium. It has a soft micro-suede exterior with a warm plush sleeping inner area. This self-warming unit has a detachable inner cushion that is machine washable for convenience and comes in three colors; grey, pink and blue. Plus, this shark-design is just too funny not to have.
6. Precision Pets Shearling Round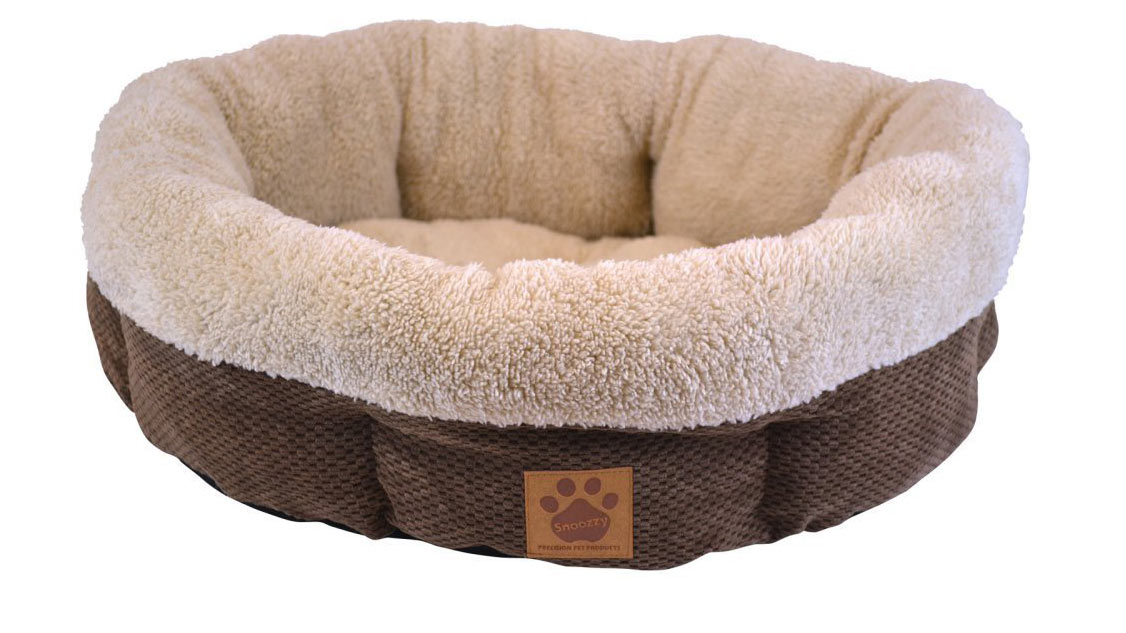 For your snuggly kitty comes the Precision Pets Shearling Round Bed. It is made from plush chenille fabric for that extra softness, with polyester fill for a comfy sleep. The sides of this cat bed are high enough for any feline to really get enveloped in and the machine washable fabric is easy-to-clean. This product measures 10″ x 21″ X 21″ and the neutral colors will match any decor.
5. Kitty City Steel Claw Sleeper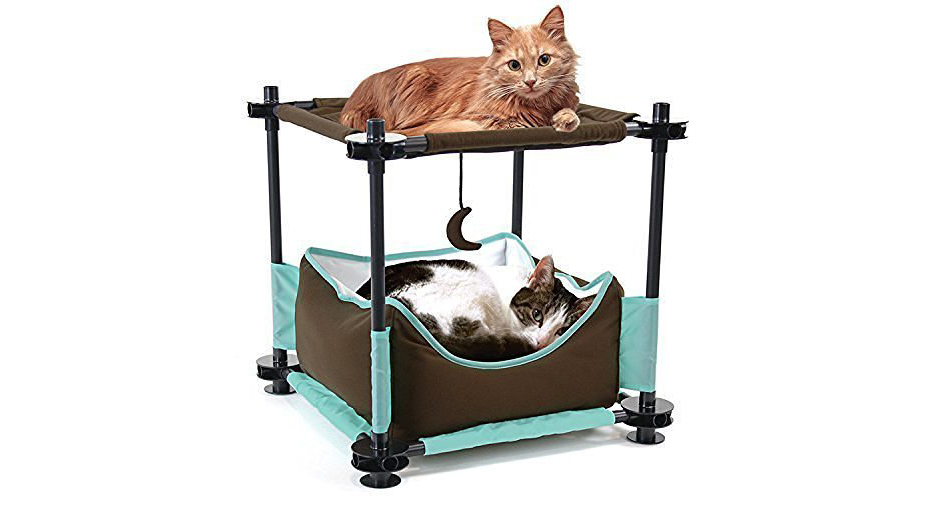 This two-in-one Kitty Sleeper is perfect for the multi-cat household and may be the best cat bed for you. The durable frame is held together by heavy-duty abs joints and the universal piping makes putting this cat bed together a snap. The snugly bed and top resting lounge are both made from soft fleece with an added layer of tear-resistant and heavy-duty fabric. This unit also measures 17.8″ x 17.8″ x 17.2″ and the hanging toys are included.
4. Original Kitty Cot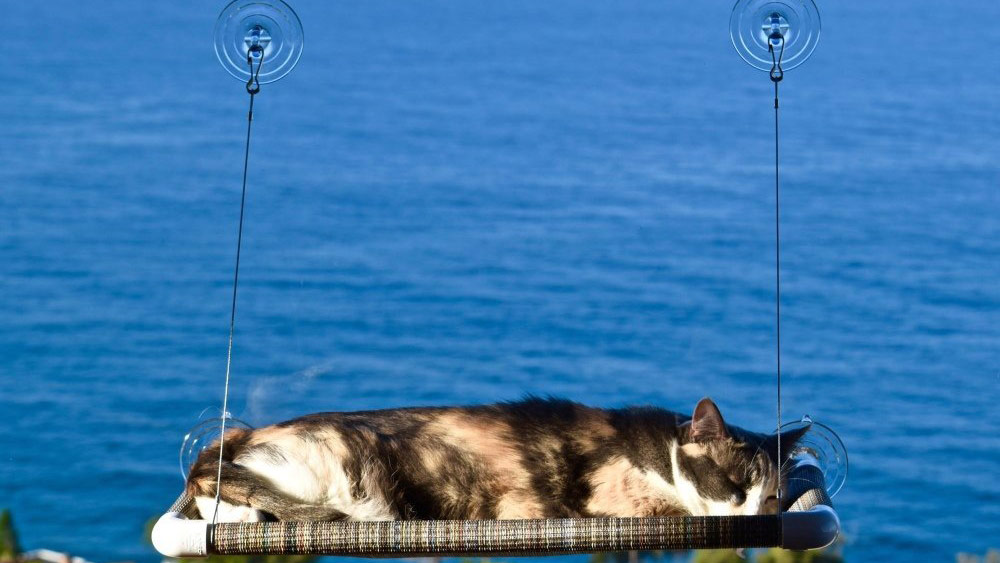 Being toted as "the World's Best Cat Perch" this Kitty Cot is sure to please even the most particular of felines. The unit mounts onto any window with their patented USA suction cups and ⅛" stainless steel cables for extra stability. The bed itself is designed from ¾ PVC plastic pipes and fittings, while the durable lounge is made from the best outdoor rugged fabric. Plus, the Humane Society has given the Kitty Cot a BIG "paws" up!
3. Kitty Ball Rattan Cat Bed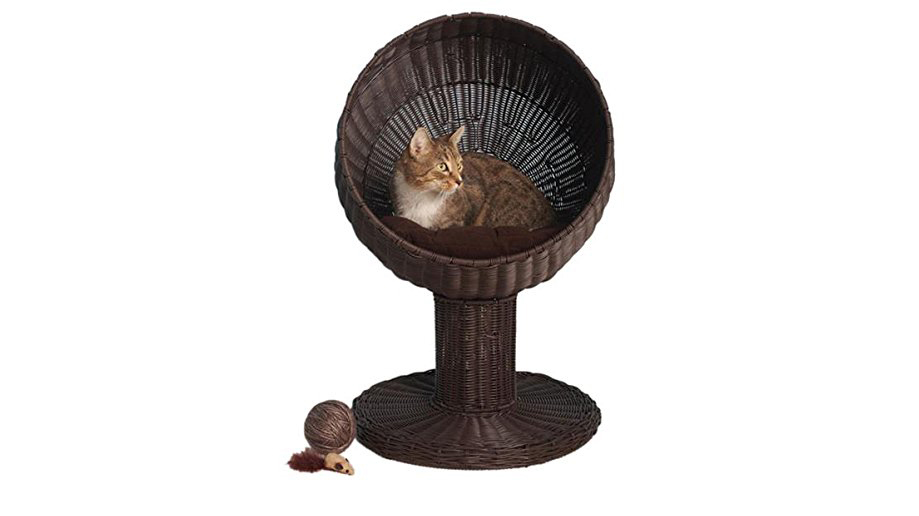 Now you don't have to sacrifice beauty for functionality when the Kitty Ball Rattan Cat Bed has it both. Made from tough-as-nails rattan, this 17-inch domed cat bed with stand is sure to look great in your home, while keeping kitty cozy. The deep espresso colored cat bed measures in at 17″ x 28″ x 17″ and comes with the soft pillow for a restful sleep. This unit is perfect for empty corners or moving it around to follow that elusive sun-patch.
2. Cat House, Bed, Cave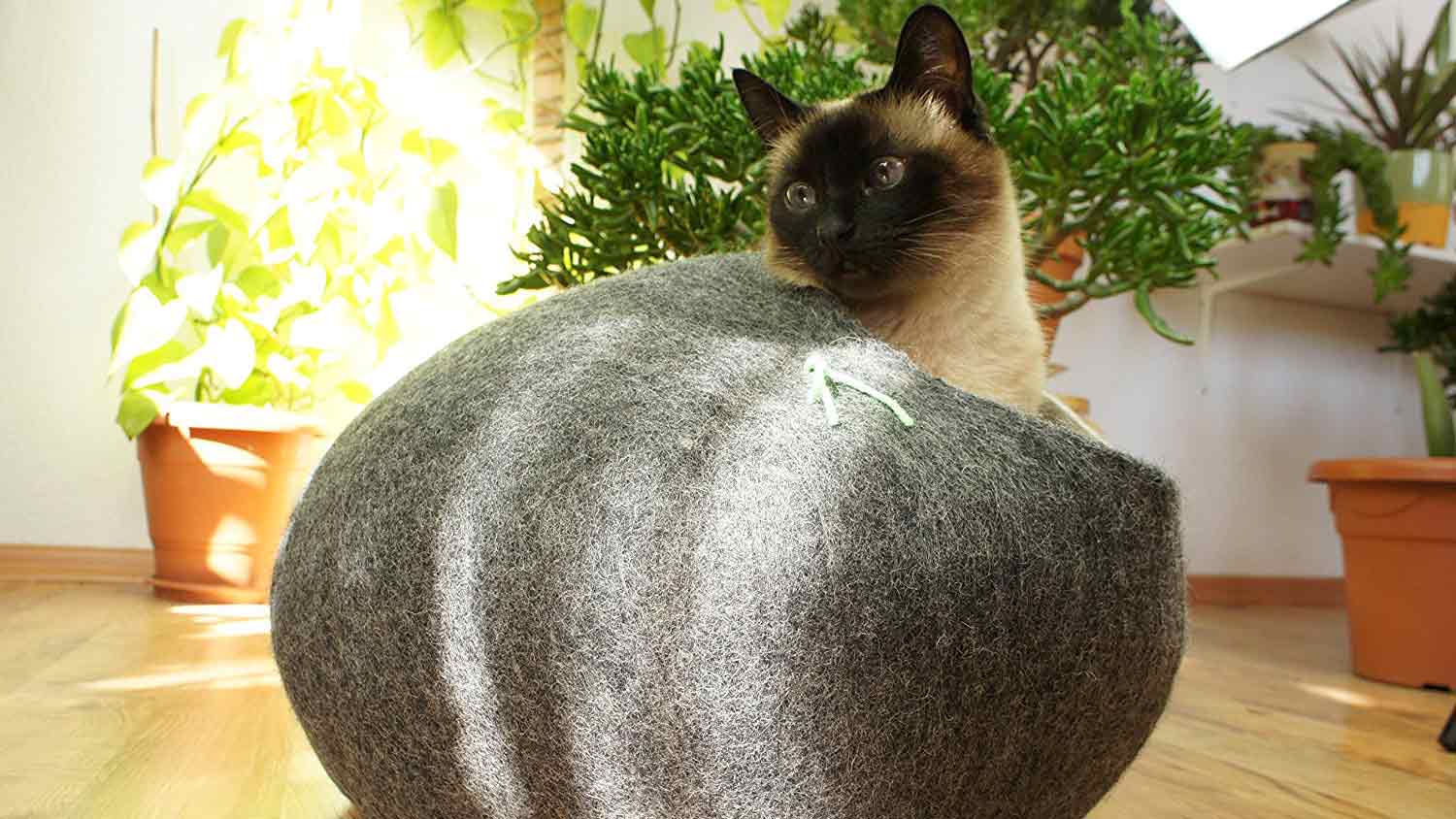 This is one of the best cat beds, not only for its unique appearance, but cats will love it, too.
The plum-shaped bed is made from all-natural, chemical-free sheep's wool and will provide your cat with a cozy, self-warming place to rest those long days away. The durable wool is also dirt-repellent, so the dust and debris just settles onto the surface for easy wiping away or with the vacuum cleaner.
In addition, this little pod-bed comes in two sizes; medium and large. Your cat will love to snuggle inside, while the sleek design won't be too obtrusive in your home.
1. Yicat Pet Bed, Quilt & Pillow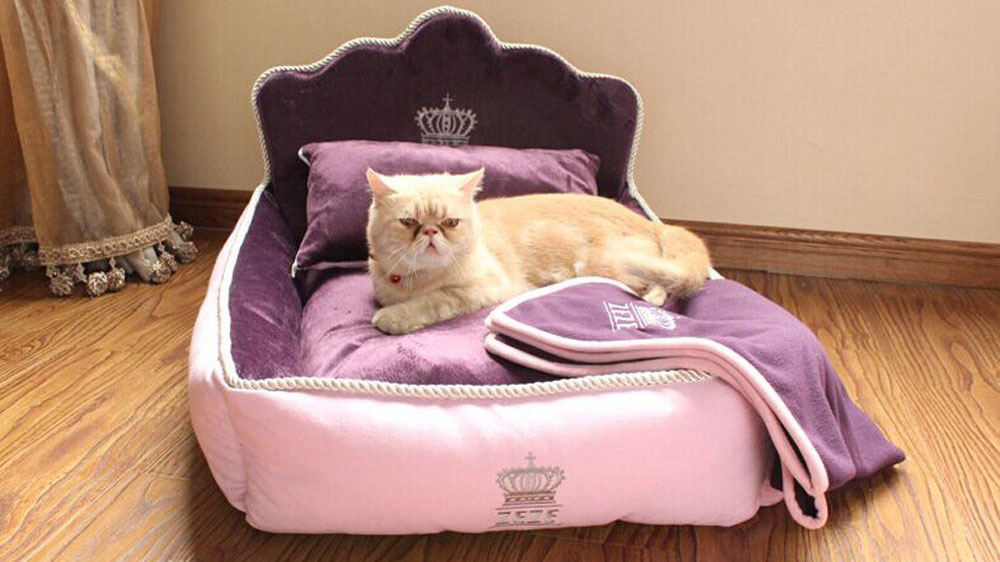 This best cat bed is taking the title for it's versatility and for bringing us back to our childhood. This "Princess-style" cat bed looks like it has come straight from the pages of a fairy tale. It also comes in three sizes with the royalty-inspired bed, a pillow and a quilt. And speaking of royalty, this unit is made in two shades of purple (light and dark). The extra soft plush inside will keep kitty warm on all those chilly nights, and the durable outer canvas will stand up to all that bed kneading.
In addition, the entire cat bed comes apart for easy cleaning on the gentle cycle with a low tumble dry. Your little Princess (both feline and human) will love this cat bed.
The Best Cat Beds? What Does Your Cat Crave?
We've taken you on a journey through some of the best cat beds on the market today. These come in a variety of styles and are all made from quality, top-notch materials.
But what does your cat crave?  Does she like to snuggle, be high off the floor or just lounge wherever the sun shines?
Knowing the needs of your feline friend will make choosing the best cat bed for your bff even better.
Need an Automatic Litterbox With That?
So you got the bed sorted, but what about the best automatic litterbox, cat tree or water fountain? Check out all of our other reviews, we've scoured the internet so you don't have to!